Webinar: How generative design is changing building design
Wednesday, 28 July at 3pm (LA) / 6pm (NYC)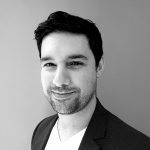 Keynote Speaker: Dr Ben Coorey
Dr Ben Coorey is the founder and CEO of Archistar, and a global leading expert in Architecture and Generative Design. 
Webinar Details
Join us on Wednesday, July 28th at 3pm PDT / 6pm EDT for our inaugural US webinar on How Generative Design Is Changing Building Design. Learn how AEC professionals unlock innovation and design efficiency by incorporating generative design into their workflow.
We'll reveal how Archistar can help you create hundreds of concept building designs in only a matter of minutes taking compliance, building and environmental requirements into account.
Topics discussed:
Real-world applications of generative design in architecture and building design
Traditional design vs generative design: what does the future hold?
How generative design can improve automation and optimisation in the AEC industry
How developers, planners, architects and home builders can use generative design to plan large master plan sites
How to bring generative design into your workflow to unlock innovation and design efficiency